(Accredited by the ACMP®)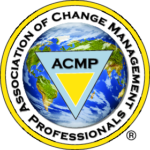 Get globally recognized, Learn the change management foundations, and boost your career.
This course is a deep dive into change management. It is an experiential learning experience that empowers you with the advanced knowledge, skills, and tools needed to lead successful organizational change initiatives. Throughout the training, you will work on one of your real change initiatives. You will also share challenges, solutions, and reflections with your peers.
The course is currently budled with the ElKattan Consulting Certified Change Management Practitioner (KC3MP) established by ElKattan Consulting, You will be KC3MP certified if you successfully develop a change managment project for a real change initiative.
Why should you join this change management training?
The course is accredited by the

Association of Change Management Professional (ACMP®)

. and will enable you to apply for the Certified Change Management Professional (CCMP™) which is a globally recognized credential established by the ACMP®.
During the course, you will use our change management assessment tools to assess the stakeholder readiness, culture readiness, and organizational alignment. By the end of the course, you will be provided with useful templates and tools that you can start using right away to lead your organizational change initiatives.
The content and case studies of the course are extracted from our Change Management Guide: Bridging the Gap: Between Strategy Development and Strategy Execution, which is available on Amazon.
The course methodology is based on ElKattan Consulting own research-based model ElKattan's 5-Theme Model for Change Management.
Don't miss our next intake ( 9 July 2022 ) and start your training to become a certified change management practitioner. Limited number of seats available.
Interactive in-person online training: 8 sessions, 4 hours each.
Limited number of admissions.
Apply for a certified change management practitioner certificate.
Globally accredited by ACMP
Our next online instructor-led run will be on July 9, 16, 23, 30, August 6, 13, 20, and 27 (4 hours / day)
Throughout this course you will learn how to: